Check the Regulations First ~ Seasons & Open Water Change
~ Please Practice Catch & Release! ~

The larger streams in the area are generally best floated during the earlier part of the season and then walk wade come summer and fall.
We utilized drift boats and rafts on the Bull and Yaak. Lake Creek is only accessible by walk wade. When the Koot is blown out, chances are that these will be good to go. Floatable seasons on them run from late May - July most years.
The Bull River is 20 minutes away from our lodge and cabins and primarily holds Rainbows and Cutties that will run 10" to 16" with the occasional bigger fish. For those streamer fanatics there are also some bigger browns lurking the depths.
The Bull definitely lends itself to the more seasoned fly fisherman as tight accurate casting here is a must. The driftable season tends to be short .
Less than a couple of months. Maybe only weeks. June - July. But for the experienced angler this is one that you should definitely not miss. Some of the thickest Drake hatches I have ever seen any where have come off this river. Hit it at the right time and it's amazing! Scenery second to none too. Well worth the effort.
The Yaak River is 45 minutes away .It is small and remote and the fish here will average 6" to 10" with the occasional 12" to 14" fish. The Yaak is definitely an "easier" fishery for the novice. 50 to 100 fish days are not uncommon.
Rainbows and Brookies are the primary fish here.
You can expect remote scenic beauty with any of these streams.

BUT...Log jambs and other hazards can and do change on a yearly basis so it's best to inquire before floating any of them your first time out. Carry a chain saw and rigging gear if you don't know for sure! There is no 911! You're on your own!
The Bull River has class 3+ rapids. The lower Yaak is inaccessible to all but the most experienced rowers. It contains Class 4 and 5+ rapids in a narrow chute canyon. Hike it. Don't float it. We don't need another statistic.
The Thompson River can be found roughly an hour Southwest of our
Lodge and Cabins and offers very easy access as it is paralleled by logging roads for it's entire length. It is best fished on foot in the spring and fall as bigger fish migrate up from the reservoir. The Thompson has some spectacular hatches and over the years has produced some great fishing.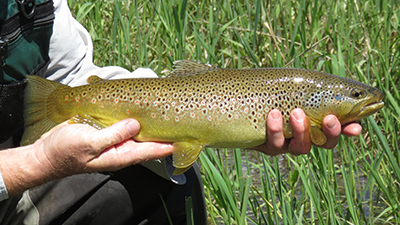 Hatch Chart Here.
Fly Fishing Report Here