Fly Fishing Experience at KRO
A trip to the Kootenai River valley offers a variety of fly fishing choices. Whether you will be spending the day with one of our guides or venturing off to explore on your own rest assured that you will find many different types of water to choose from. Guests staying at the Lodge and Cabins also have private access to more than 2 miles of Lake Creek, the lower Kootenai's finest tributary.
Northwest Montana receives abundant precipitation during the winter giving rise to everything from large rivers where a drift boat or raft is a necessity to fish them properly, large lakes and reservoirs that can seem daunting at first, to smaller streams and creeks that make for easy wading. Dozens of trout filled high mountain lakes also dot the area.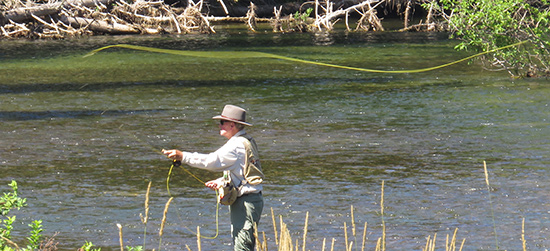 For guided fly fishing with us on the Kootenai and small streams you will spend the day fly fishing and floating with expert guides that have spent many years on this water. Native Columbia Redband Rainbow, Westslope Cutthroat and Brown Trout are our primary targets in these rivers.
A typical day guided fly fishing is at least 8 hours covering 6 to 10 miles of river or stream. We fish the Kootenai and small streams from drift boats and rafts to give us access to those places that would other wise be inaccessible on foot. We do however stop as needed to get out and fish the back channels, islands, gravel bars and such. We won't keep you confined to the boat all day.
We also guide several area lakes and reservoirs. These fisheries have become some of our favorite
"go to" places when the rivers and streams are blown out early season. Or when you'd like a little change of pace from moving water. Northern Pike and Smallmouth Bass become the targets of choice here. But all of the trout species can also be found in these waters.
Maybe you're a seasoned fly fisherman that would like to spend a day with a guide just to get to know the area and then venture off on your own. Or maybe you'd like a little more instruction and practice on your casting and presentation. What ever your needs we will be happy to help out.
Food for the soul
When finished fishing for the day lodge guests that have chosen to dine with us will be welcomed back to unwind and share stories while you relax on the deck and watch the fish rise. Enjoy an appetizer and favorite beverage while we prepare you a meal that is sure to please even the most discriminating diner.
Dinner menus feature Montana steaks, chops, lamb, pork, chicken and fish. Fresh salads and herbs, veggies, home made breads and desserts. Seasonally we use as much fruit and produce from our own orchird and garden as possible.
Lunches in the boat or streamside are always a treat and will feature hearty homemade sandwiches and salads Maybe some hot stew or soup too in the colder weather. Plus fresh fruit and some dessert. You won't get off the water hungry.
Breakfast could be eggs and pancakes, hot scrambles or quiche, waffles or vanilla french toast with fresh maple syrup and berries from the garden and local area. Raspberry and Huckleberry seasons are favorites! Along with sides of ham, sausage, or bacon. Plus there will always be an assortment of yogurts with fruit and granola or cereals. And of course fresh ground coffee, tea and juices.
Before Robert & Jeanie started KRO, Robert worked in some of the finest resteraunts and resort hotels in the country for nearly 20 years. A well acomplished chef, he is as adept in a kitchen with a knife and saute pan in his hand as he is on a stream with a fly rod. Jeanie's home made breads, jams, and desserts have become very well loved over the years. We promise you'll like the food!