Photography & Hiking the Cabinet Mountain Wilderness
Nestled in the heart of the Bull Lake Valley guest staying at KRO have access to the Cabinet Mountain Wilderness and Scotchman Peaks "right out their door". Montana's beautiful Yaak River Valley lies a short distance to the north. This is a nature photographers paradise.
You may spend your time day hiking to one of the many lakes or streams in the area. Or hike some of the miles of trails and roads on our property. It's your choice as the opportunities are many. At the end of the day you can return to the comfort and solitude of our guest cabins to relax and rest yourself for the next days journey.
The Cabinet Mountains of Northwest Montana are some of the least traveled yet most beautiful in the country. Running roughly 150 miles from the north end of the Bitterroots and almost to British Columbia they encompass some of the most remote and untouched land left in the lower 48.
The 95,000 acre Cabinet Mountain Wilderness is the backdrop scene from anywhere on the property. With peaks towering to 8,738 feet, miles of streams, waterfalls, lakes and a life times worth of trails it is truly a gem seen mostly from afar. But for those willing to take a bit of time and explore, endless opportunities await.
Out the "back end" of our property lies the 130,000 acres of the remote and almost roadless (just 1) area of the Scotchman Peaks. Though not designated wilderness it is beautiful in its own right. Many more forest service trails leading to high peaks, lakes, streams, and water falls make up this area also. The Cabinet Yaak ecosystem is home to some of the last free roaming Grizzly bear and Wolf populations in the lower 48.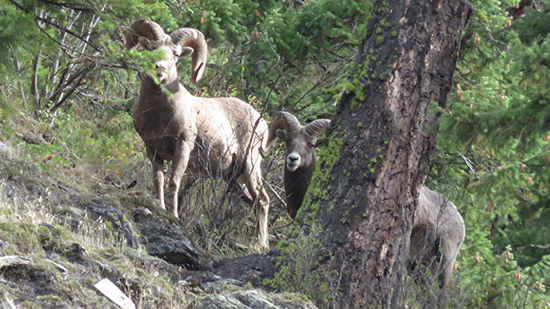 All of this area is encompassed by the millions of acres that make up the Kootenai National Forest and many more adventures await there too.
Hikes in both the CMW and SP's range from an easy 1 to 2 hour walk, to strenuous multi day trips that can put you into country that may not have seen another soul for months, maybe years. Numerous maintained trails are easily reached from the ranch.
The book Trails of the Wild Cabinets by Dennis Nicholls is the finest that we have seen on this area, and highly recommended. It is an invaluable tool for any of our guests planning on exploring here.
Order it here from Amazon or Here from Keokee Books
Below are a few links of interest.