2018 Fly Fishing Reports - June 19th
A last cool blast of spring. Mid 60's today with a light dusting of snow up top. 70's forecast for this week. It's going to be real nice fishing weather.
Lake Creek up top at the cabins...clear and holding some REALLY nice fish! Real good right now.
But you're going to work for them. High water, big fish, moderate wading. Green Drakes, Golden Stones and Caddis are REAL good. The next 2 months are the best small stream and it's happening right now out your front door.
The Kootenai River - 15 kcfs or so.
Well they had forecast high water till July but happily they were wrong.
Koot is coming into shape NOW! Flows are scheduled to drop through the teens for the rest of June which means it's big river time. Visibility is in the 3 to 5 foot range. BWO's on the cloudy days. Streamers and Drakes too. Drag a Stonefly Nymph 8 feet down through the deep holes. Season ON!
Lake Creek, Bull River, Yaak River & Small Streams. NOW!
Lake Creek is in great shape. Golden Stones and Drakes are here now. And raising GOOD fish in the evenings. The next two months at the cabins and lodge are primo. Big Bugs on top. Or streamers on the banks. You small stream trout guys...It's good NOW!
Bull River: NOW!!! Seriously. The Bull is prime time right now and for the next couple / few weeks. This is the yearly window to float it. The Yaak Fishable! Plan Yaak for 2500 cfs to 1000 cfs.
Bull Lake...Smallies and Pike!
Pike are everywhere but the smallies are in the shallows. Kokanee time. Summer mode now.
Mountain Lakes:
Thawing. BIG Spar open. Little lakes this month. Little Spar may be mid July.
St Paul and Rock Lakes thawed out. Anything above 5500' give it to July 1st.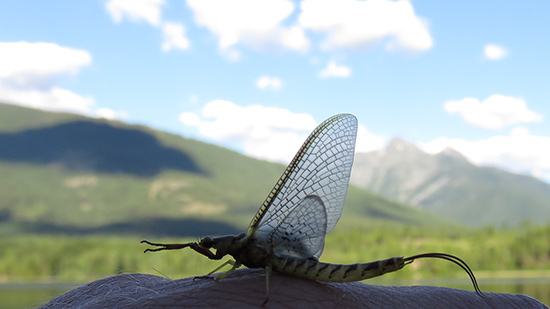 Bull Lake:
Pike are here!