May 19 '22
The Kootenai River - 25 kcfs plus tribs! Its rockin!
Spring weather is here. Days in the 60's to 70's and cool nights have kept runoff to a minimum.
Koot is up to max flows for a while. Its going to be a small stream game for a few weeks. Bull and Yaak open this weekend.Watch flows as any big time time or rain event will push them up too high. There is still a good amount of snow pack up top so look for a fairly long small stream float season this year! YAY!
We'll be on them this week coming up and will report back.
Lake Creek, Bull River, Yaak River & Small Streams
Lake Creek..real good shape up top. Run off starting but clear and quite fishable at the lodge and cabins. Caddis, midges, and the first stones of the season just spotted. Green and Gray Drakes here soon as well as the biggest bugs of the season...Golden Stones! If they won't look up swing a streamer or run a deep nymph. Good fishing happening NOW!
Yaak, Bull and small streams closed till 3rd Sat in May.
Bull River
Cold and closed till 3rd Sat in May.
Bull Lake
Ice is OUT! Fish it and let us know! Pike be happening!
Spar Lake
Not quite. Still snow. But Mid to end of May??? Let us know!
Mountain Lakes
June at earliest.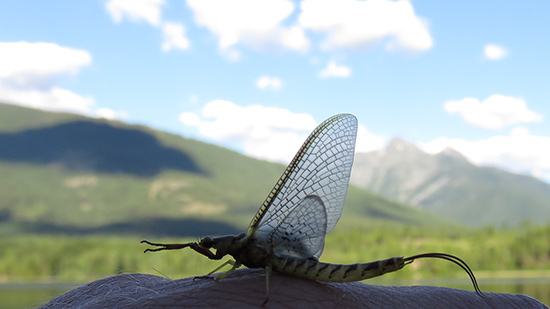 Bull Lake:
Pike are here!