2019 Fly Fishing Reports - May 22nd
Lake Creek, Bull, Yaak prime. Seriously. Small stream if you want it this year is happening now.
The Kootenai River - 18 kcfs
What little low elevation run off we have left is happening now. Temps are cooling though so the rive will calm down a bit. Still a little high for my taste but the small streams are all coming into play. Drakes, stones, caddis and streamers.Koot is fishable all the way. Still closed till June 1st up top. Koots going to be be good now for the rest of the year. Bring it!
Lake Creek, Bull River, Yaak River & Small Streams.
Lake Creek...is good NOW and for a few months. Water levels up but still clear and wadeable. Throw a streamer or look for risers to caddis. Little Yellow and Brown Stones today all over everything. Lots of risers. Some really good fish to be had this time of year. They're coming off the spawn and looking to chow. Warm temps and sun shine this week are going to be the first big turn on of the season. It's time for Golden Stones, Green and Gray Drakes, Salmonflies and big Caddis. If you want a chance at the bigger fish that move from the lake...get here.
Yaak and Bull ...NOW. Dropping fast do to low snow. If you want to float the best parts of eitther one of these streams now is the time. They are both dropping REALLY fast. Contact me for info.
Bull Lake...Smallies and Pike!
Pike are spawning and still can be found in the shallows. Sight casting spring time is upon us!
Mountain Lakes:
Low elevation thawed this week. 5000' feet and above take a hike and let us know. Snow is disappearing quick. Highest of lakes first part of June at the latest.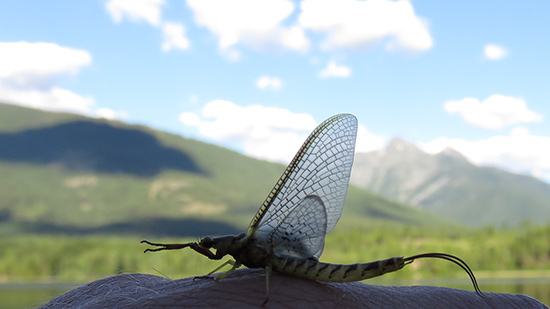 Bull Lake:
Pike are here!